This is our annual European ski event that aims to assemble a small, elite group of global business executives with one common goal: to learn from one another's personal and professional experiences against the inspiring backdrop of the French Alps. Think fantastic people and networking in a fun and memorable environment – combined with the opportunity to partake in some of the best skiing and riding that Europe has to offer.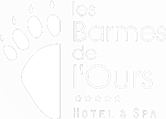 Waking up looking out at the mountains from your room at the Relais & Châteaux hotel is just the beginning of your break at Les Barmes de l'Ours. Designed with high-quality, authentic materials, the hotel wins over its guests thanks to its privileged situation at the foot of the mythical Face de Bellevarde, its artist's soul and its family atmosphere.
Val d'Isère in France's Upper Tarentaise Valley is one of the world's most celebrated ski resorts, renowned for its extensive ski area and challenging off-piste terrain, high-quality accommodation and very lively apres ski. Perfect for keen intermediates and advanced-level skiers and snowboarders. It constitutes one half of one of the world's largest linked ski domains, the Espace Killy (named in honour of local World Cup and triple Olympic ski champion Jean-Claude Killy), which covers the combined ski areas of Val d'Isère and Tignes. The village sits at a snow-sure altitude of 1,850m, at the head of the Tarentaise Valley in France's Savoie departement; the local microclimate here has consistently delivered an accumulated snowfall total in excess of six metres most winter seasons, making the resort a sound choice for anyone planning early and late-season ski trips.
VIEW INTERACTIVE MAP
Come and spend a long weekend with TransPerfect and some of our friends.
We promise it will be worth your time.